MOST - parameterization of devices until 2015

MOST is a local desktop application designed for computers with the Windows operating system, which enables the parameterization of FIEDLER telemetry units, data loggers and measuring transducers first launched on the market before 2015.
Parameterization of devices
The program is mainly used to set the parameters of devices connected to the computer via a communication cable or remotely via a server service.
A detailed description of the parameters of individual devices and the procedure for setting them using the MOST program is always given in the relevant device manual.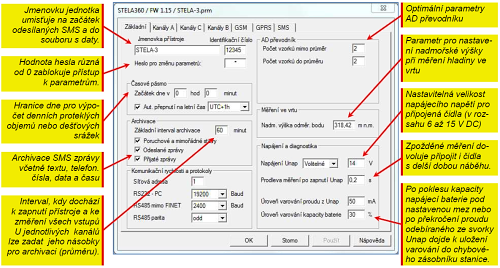 A typical window for setting a group of parameters with the MOST program - taken from the manual of the small telemetry station STELA
The current parameters of the connected device can be saved in a separate file, then edited off-line, uploaded and archived.
Display of measured data
The measured data from the device can be visualized in the form of graphs and tables and possibly also downloaded to a computer and backed up. MOST is therefore a suitable tool for the basic evaluation of measured data in the field.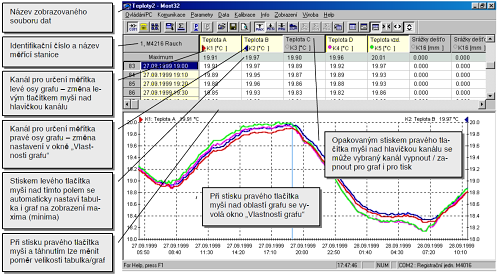 Example of displaying read data from the MINILOG temperature data logger - taken over including explanatory labels from the MINILOG manual
On-line visualization of measured data
In addition to displaying archived data, the MOST program allows you to display the currently measured values of analog and binary channels on the monitor of the connected PC / notebook and online by the connected device.
Diagnostics
An important function of the program is the diagnostics of the connected device (power system status, data memory full, error tray check and more).
Connection
Loading data into the program can be done either by cable from the connected station, by exporting a data file from the server or by dialing a data call. The program is useful for parameterizing units in places where there is no possibility of internet connection.

The program supports Windows 7 and higher.
License

You can get the current version of the MOST program in the "Downloads" section of the manufacturer's website. Assuming you have purchased a license number, you will receive an unlimited version. Otherwise, the program serves as a DEMO version without the possibility of communication with the device.

The program can be purchased in the standard version for installation on one computer or in the version of volume licensing (ML), which allows installation on an unlimited number of computers within the organization.

The MOST program is not part of the standard delivery of the station.