Optical turbidity sensor S461

Infrared sensor characteristics:
Nephelometric measuring principle (lateral light scattering, ISO 7027, 90 °)
2 measuring ranges 0-10 NTU, 0-100 NTU (S461 / LT) or 0-1000 NTU and 0-4000 NTU (S461 / TN)
Robust design suitable for permanent immersion (IP68)
Modbus-RTU digital output on RS485
Very low current consumption even for battery-powered applications (monitoring of turbidity of lakes, ponds, rivers and streams) Calibration with standard formazine solutions
Compatible with FIEDLER control units (M4016, M2001, E2, H3, H7)
Examples of use: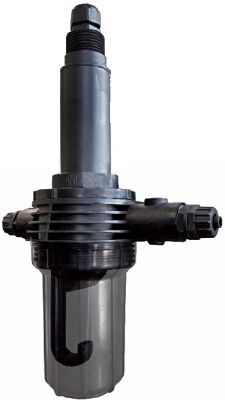 The S461 optical infrared sensor is designed for operational measurement of turbidity in municipal and industrial wastewater treatment plants, for monitoring drinking and surface water pollution and for various industrial applications.
The sensor can be connected to FIEDLER telemetry and recording units via the built-in RS485 communication interface and to obtain both the turbidity time record and the control technology based on the measured values (control units type E2, M4016, M2001 or H3 and H7 equipped with 4-20 mA current outputs , binary outputs - relays and PID controllers). For stations with a built-in GSM module, a warning SMS can be sent automatically after exceeding the preset limit values of the measured turbidity.
Sensor connection to control unit (E2, H3, H7)
The sensor is standardly equipped with a 10 m long cable terminated with an M12 connector (alternatively, a sensor terminated with free wires for connecting the cable to the terminals can be supplied).
The connection of the sensor and the recording unit longer than 10 m should be solved with a suitable communication cable intended for RS485 bus distribution (2 pairs of twisted wires) and when laying the cable, pay attention to a sufficient distance of communication and power cables.
Service and maintenance:
The optical sensors of the sensor must be kept clean without deposits and deposits. The partial self-cleaning ability of the sensor was achieved by its suitable mechanical design, where the smooth glass surface of the sensor with optical sensors does not allow massive deposition of dirt. If a layer of sludge or bioflora still settles on the optical sensors, clean the sensor head with soapy water and use a soft cloth or absorbent paper to dry it.
In addition, optical sensors need to be protected from impact and scratches and from chemicals such as highly concentrated acids, organic solvents, hydrogen peroxide and hydrocarbons.
Calibration:
The NTU sensor is an optical device that requires occasional calibration. The NTU zero value is checked by immersing a clean sensor in clear water without bubbles. The sensor gain is checked by immersing the sensor in a formazine solution with a concentration equal to half the set measuring range of the NTC sensor. The measured value is then calibrated in the connected measuring unit.
Basic technical parameters
| | |
| --- | --- |
| Parameter | Value |
| Measurement principle | Nephelometric measurement 90°, ISO 7027 / EN 27027 |
| Measuring ranges S461/LT | 0 až 10 NTU and 0 až 100 NTU |
| Measuring ranges S461/TN | 0 to 1000 and 0 to 4000 NTU |
| Turbidity resolution | 0,01 to 1 NTU |
| Measurement accuracy | better than 5% of range |
| Operating temperature | 0 °C to +50°C |
| Storage temperature | -10°C to +60°C |
| Communication interface | Modbus RTU on RS485 |
| Maximum response time | < 5 sec (90 % measured values) |
| Power voltage | 12 to 24 V DC |
| Consumption | < 3 W |
| Dimensions | diameter 42 mm, length 231 mm |
| Hmotnost | 1460 g (sensor with 10 m cable) |
| Maximum allowable pressure | 4 bar |
| Connection | 10 m polyurethane cable terminated with M12 / 5 connector (pins) |
| Sensor material | PVC, AISI 316 |
| Cover | IP68 |